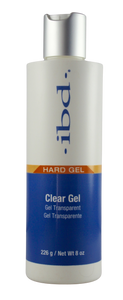 IBD
IBD Hard Gel ( 8oz)
Regular price
$39.95
Sale price
$50.00
Unit price
per
IBD Hard Gel ( 8oz)
 "Hard Gel LED/UV Gels are formulated for natural nail overlays."
IBD LED/UV Clear Gel 8oz refill of its best-selling multi-purpose gel!
The LED/UV formula provides a thin, clear, and glossy finish. LED/UV Clear Gel is self leveling which allows for ease of application and can be applied over nail tips and natural nails for added strength.
The 8oz bottle allows the technician to easily refill their LED/UV Clear Gel jar for faster, beautiful nails! Specialties
LED and UV curable
Same Best-Selling formula now in an 8 oz back-bar size.
Economical size
Apply over tips and natural nails for added strength
No chipping or peeling
Lasts for weeks
Use with both manicures and pedicures
---