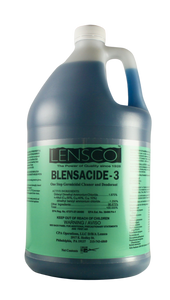 Tru-Form Nails & Cosmetics
LENSCO - Blensacide- 3 Sanitizer Gallon
Regular price
$30.00
Sale price
$35.00
Unit price
per
Lensco Blensacide-3 One Step Germicidal Cleaner and Deodorant (Disinfectant) 1 Gallon



One Step Germicidal Cleaner is a multi-purpose germicidal detergent effective in the presence of a moderate amount of organic soil. Disinfects, cleans and deodorizes in one labor saving step.
One step germicidal cleaner and deodorant
Can be used on floors, cabinets, sinks, tubs, metal, wood, stone, tile and more
Can also be used to disinfect salon tools such as combs, brushes, razors, scissors, and other shop tools
Compare to Barbicide
Directions:
For disinfection remove heavy soil deposits from surface. Then thoroughly wet surface with a solution of 2 ounces of the concentrate per gallon of water. Apply with a cloth, mop, sponge, or coarse sprayer, or by soaking. For sprayer applications use a coarse spray device. Spray 6-8 inches from surface, rub with a brush, cloth or sponge. Do not breathe spray. Let solution remain on surface for a minimum of 10 minutes. Rinse or wipe dry with a clean cloth or sponge or allow to air dry. Rinse all surfaces that come in contact with food such as countertops, exterior surfaces of appliances, tables and stovetops with water before reuse. Do not use on utensils, glassware and dishes.
---